Recognized for the fourth consecutive year, the socially responsible company distinction is a recognition promoted by the Mexican Center for Philanthropy (Cemefi) by which business organizations are awarded annually to maintain the culture of social responsibility through good practices in different areas: quality of life within the company, business ethics, community bonding and conservation and preservation of the environment.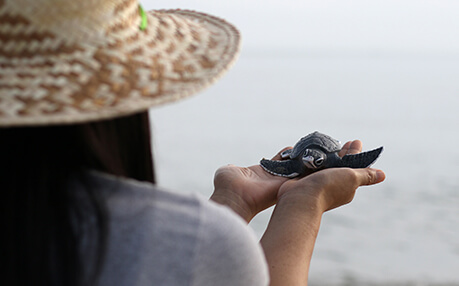 United Nations Global Compact
We adhered to the Global Compact in 2018. It is an international initiative of the United Nations that seeks to implement 10 universally accepted principles to promote sustainable development within the strategy and business operations in the field of human rights, labor standards, environment and anti-corruption.
"Gilberto Rincón Gallardo" Inclusive Company Distinction"
Promoted by the Ministry of Labor and Social Security (STPS) to recognize work centers that apply a policy of good labor practices in equal opportunities, inclusion, development and non-discrimination of people in vulnerable situations, like social responsibility management and respect for human rights.

The "Gilberto Rincón Gallardo" Inclusive Company Distinction has been awarded to our hotels: Crown Paradise Club Puerto Vallarta, Crown Paradise Club Cancun and Vista "Playa de Oro" Manzanillo.
Great Place to Work
We are convinced that organizations have a great opportunity to change the world, for that we have been distinguished as a Good Place to Work. With the evaluation of criteria such as the credibility of its leaders, respect among its employees, the work environment and growth opportunities, Arriva Hospitality Group strives every day to exceed the expectations of our business.